The team of consultants from the Co-Innovation Lab at Munich University of Applied Sciences developed a concept for dynamic pricing for the Bio-Hotel in Neuburg an der Donau as part of an innovation project.
In the first virtual cooperation project between the Munich University of Applied Sciences and the Bio-Hotel Aussicht in Neuburg an der Donau, a three-person project team is developing a data-based price configurator called DYNO for dynamic pricing for small and medium-sized hotels within ten weeks. This enables the project partner for the first time to respond to fluctuating demand for rooms by adjusting prices flexibly. It also enables potential hotel guests to book hotel rooms at lower prices during periods of low demand.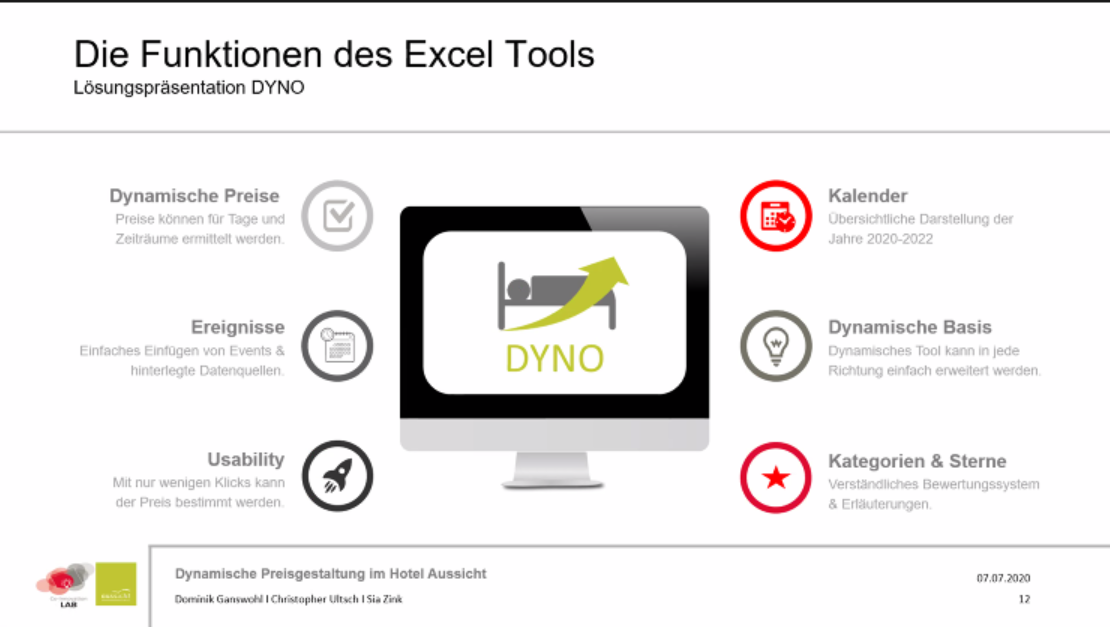 The software solution DYNO offers the possibility to answer price inquiries quickly, easily, intuitively and to the day. A new feature is that regional factors influencing the price can be taken into account. Thus, high and low price days are identified and the software provides the user with an automatic price proposal. Through an individualized offer, the organic hotel optimizes customer satisfaction and increases its overall profitability.
Decisive for the success of the project was the customer-oriented development. DYNO is to become an everyday companion at Bio-Hotel Aussicht. "For us, the collaboration is already a complete success. DYNO is the next step in digitalization for the hotel. The project team has done a unique job, designed the software exactly to our needs and laid the foundation for an easy implementation," says Michael Pantner, owner of Bio-Hotel Aussicht.
The circumstances that accompanied the project are also unique. Due to the ongoing restrictions triggered by COVID-19, the consulting project was carried out virtually. Project manager Sia Zink summarizes: "Of course, face-to-face contact has its advantages. Through weekly online-based conferences with Michael Pantner, our project partner and lecturer Prof. Dr.-Ing. Holger Günzel and the consulting team with Christopher Ultsch and Dominik Ganswohl, we specifically promoted the exchange between all stakeholders. We have probably even increased the number of points of contact with the customer as a result of the current situation. That shows in the results." The collaboration between the Co-Innovation Lab of the University of Applied Sciences Munich and the Bio-Hotel Aussicht sets an example for innovative student consulting services and dynamic pricing for small hotel providers.