Students from Hochschule München have developed ZERO, a multifunctional energy management system for the IT department of the City of Munich (it@M). This solution aims to track, visualize, and evaluate electricity consumption data of office spaces and devices so the department can make more informed decision-making for enhanced energy efficiency and sustainability. The team collaborated in a cross-functional setting for three months, comprising IT and Business students, to create the solution prototype. They applied the AWS working backward method and worked in an agile Scrum working environment throughout the solution development.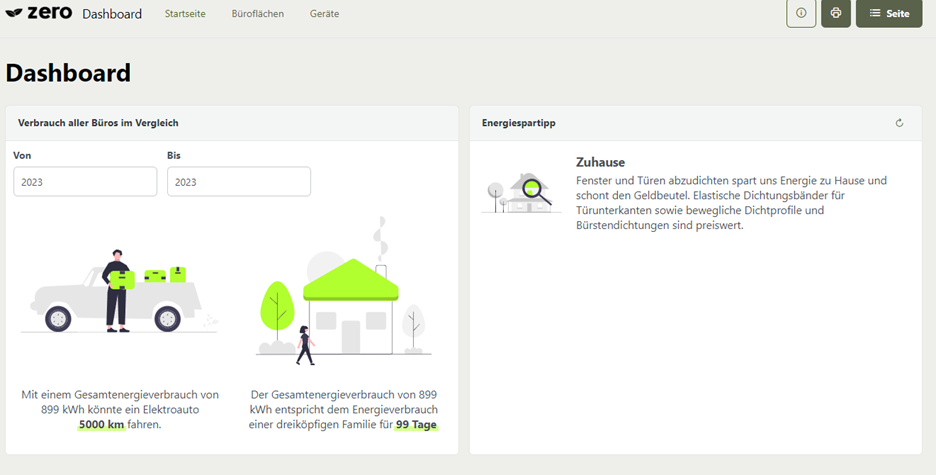 it@M recognized the challenges associated with a lack of transparency and accessibility in energy consumption data of their buildings, hindering effective evaluation of energy usage behaviour in their office spaces. An innovative solution is needed to collect and visualize energy data for informed decision-making on energy savings strategies.
ZERO aims to provide the management within the department with a more tangible understanding of energy consumption, offering enhanced accessibility and traceability. Currently in its prototype phase, ZERO aims to improve and optimize energy management. Its unique selling points (USPs) include transparency, a centralized view of electricity consumption, the ability to compare energy consumption, its traceability, and increased awareness of energy consumption.
The main features of the ZERO prototype are the centralized overview of buildings and devices, which are offering transparent insights into energy consumption for management-level stakeholders. ZERO offers a comprehensive comparison of the office space's energy consumption not only in isolation but also in relation to other examples from everyday life, such as energy consumption of private households or cruising range of an electric vehicle that can be reached with the same amount of energy. Furthermore, ZERO provides energy-saving tips that appear each time the  homepage of the dashboard is reloaded, ensuring that users, especially employees of it@M are consistently exposed to practical ways to reduce energy consumption at work.
On July 10th, the ZERO team had the opportunity to showcase their solution to it@M, and it was a resounding success. Dr. Stefanie Lämmle, the head of InnovationLab, expressed her admiration by stating: "We are impressed by the solution presented by Team ZERO. We would love to further explore the potential of the ZERO prototype".
About the Digital Innovation Lab and the Co-Innovation Lab
This solution was designed in a joint project between the Digital Transformation Lab and the Co-Innovation Lab of Hochschule München guided by the lecturers Prof. Dr. Holger Günzel, Prof. Dr. Lars Brehm, Prof. Dr. Johannes Ebke and Hans-Jürgen Haak. The Co-Innovation Lab offers students a virtual platform for learning how to work as a consulting team by creating temporary partnerships between companies, students, and lecturers.
For more information about the Co-Innovation Lab, contact holger.guenzel@hm.edu or lars.brehm@hm.edu.
This Co-Innovation Lab project was carried out in cooperation with the Digital Transformation Lab (DT.Lab) at Munich University of Applied Sciences:
"The Digital Transformation Lab (DT.Lab) at Munich University of Applied Sciences is dedicated to the major social challenges of our time. Together with stakeholders in the private sector, students develop future-oriented solutions. They are supported by Amazon Web Services with state-of-the-art cloud technologies and the Working Backwards innovation methodology. We live digital transformation."
More information about the Co-Innovation Lab and the Digital Transformation Lab (DT.Lab) at Munich University of Applied Sciences:
Authors: Project team